Emacs Mini Manual (PART 1) - THE BASICS
Before we start:
Please remember that you can always access a section using the floating table of contents at the upper-right corner of your screen.
Many people asked how this manual can be "mini", since it is pretty big for an online single page article. Yes, if this page is exported to PDF, it is more than 40 pages. However, this manual is "mini" relative to the size of the official Emacs manual, which is more than 600 pages. That's why.
If you find the page is loading too slow for you, you can always clone the git repo of this mini manual and read it offline: https://github.com/tuhdo/tuhdo.github.io
Why Emacs?
In Emacs, you can do many things aside from editing. Emacs is a programming platform, not just another editor in the sense that people think. For more details, read the Appendix.
Take a tour from the official Emacs homepage.
Here is my personal tour, with 3rd party plugins added. Don't worry if your Emacs does not look like the screenshots. You can have something like mine and even better, but for now you need to get a solid foundation. The screenshots are just for show. Even though, after going through this guide, you will be able to browse the Linux kernel source tree with ease.
Performance: Editing a 39MB C source file with no problem. But well, it's not your favorite editor's fault if it crashes from editing such a large source file.

Programming:

Quickly select any file in a directory under a Version Control System, for example from the Linux kernel. Note that in the demos you may see me type in the commands. You can think of it like the start menu in Windows, but those commands can actually be executed quickly with a shortcut.
Finally, Emacs is featured in Tron Legacy.
Why this guide?
Let's look at part of the Emacs manual: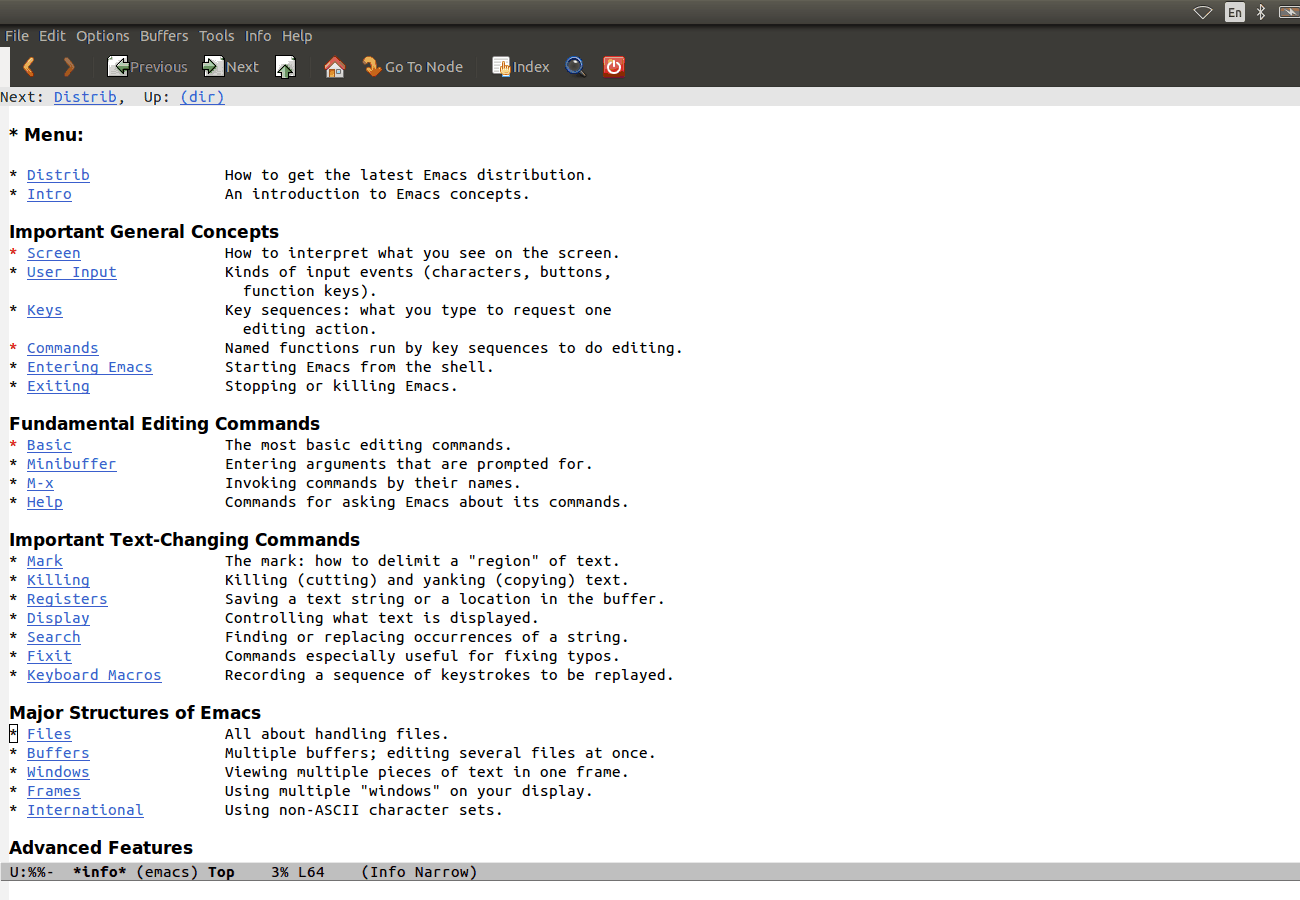 "All about handling files" is inside the Files entry, which includes how to open files, save files, revert and auto-revert files, compare files…, many things from basic to advanced. If you are a beginner reading the Emacs manual, you have to actively search the manual to learn how to do the basic common tasks you know from other editors.
It would take a long time before you can start using Emacs for basic operations (e.g. opening files) if you read the manual cover to cover. The "Fundamental Editing Commands" section is placed before the "Major Structures of Emacs" section that contains information on file handling. How can you learn the basic editing commands if you don't even know how to open a file? The problem with the manual is that it's not organized for a new Emacs user to progressively learn Emacs.
I want to help you use Emacs efficiently in a relatively short amount of time, probably around a week. That's why I wrote this guide especially for complete beginners. The Emacs manual is excellent, but it would be much easier with a solid ground understanding and after using Emacs for a while.
This guide provides a good starting point for the official Emacs manual. The GNU Emacs tour would be a nice tutorial, only if it isn't made for demonstration.
A bit of history
Quote from GNU Emacs homepage:
For those curious about Emacs history: Emacs was originally implemented in 1976 on the MIT AI Lab's Incompatible Timesharing System (ITS), as a collection of TECO macros. The name "Emacs" was originally chosen as an abbreviation of "Editor MACroS". This version of Emacs, GNU Emacs, was originally written in 1984. For more information, see the 1981 paper by Richard Stallman, describing the design of the original Emacs and the lessons to be learned from it, and a transcript of his 2002 speech at the International Lisp Conference, My Lisp Experiences and the Development of GNU Emacs. Here is the cover of the original Emacs Manual for ITS; the cover of the original Emacs Manual for Twenex; and (the only cartoon RMS has ever drawn) the Self-Documenting Extensible Editor.
"I don't want a complicated editor, I want something simple like Notepad"
Well, that's your choice. But I suggest that writing code without any support is harmful.
A programmer should automate things as much as possible if the automation cost does not outweigh the cost of doing it manually. One really easy way to do this is by using a good editor that automates many menial and tedious tasks. For example, one of the things that annoy me is using the command cd to change into a deep directory path like this:
/path/to/a/very/long/long/long/long/long/long/..../directory/
In Emacs, if you have a directory under a version control system, you can immediately jump to any file quickly, even if it is buried 20 levels deep (as demonstrated at the beginning).
Another example is quickly commenting out multiple lines of code in a programming language that only supports single line comments. In many editors you would have to tediously comment them out line by line. But in Emacs you can simply highlight the lines and press a shortcut to comment them out.
Many people think that writing programs manually makes them much cooler than "amateurs" that use a fancy Integrated Development Environment. I also used to think like that because working in a Linux environment requires understanding of the underlying processes, such as building software using a Makefile in C/C++, automating with a shell script, installing software by compiling… And this is already considered "user friendly" in the Linux world, as opposed to "click the nice little play button" in a typical IDE. However, I was wrong. While working with such tools allows me to understand what's going on, I do not need to type in code manually to understand it. If you get what a for loop does, typing it character by character is only tedious and interrupts your thinking.
Writing code manually won't make you smarter, because you did the thinking before you started to type. Typing is just a mere reflection of your thoughts into the editor. You need to finish typing as fast as possible, because the quicker you finish, the quicker you can get back to your thinking. Only thoughts matter, and there's no value in manually typing the same things thousands of times. I must say, Cut, Copy and Paste are really great ideas and great automation tools because of their simplicity.
If your job may require you to use an esoteric in-house programming language and if you don't like it, having an editor to help you finish the tasks as soon as possible is a way to make yourself happier.
Typing too much can also lead to RSI. Manually typing too much code is harmful to your fingers. At least if you use a handsaw instead of a circular saw, you do some physical exercise in the process.
In Sum:
Manually typing does not make you smarter. Not in any form.
Manually typing does not make you a better programmer.
Manually typing or other tedious tasks (navigating the file system, remembering changes you made to your files…) are a waste of time if automating is possible. Automate as much as you can.
Good editors help you automate boring tasks.
Typing too much potentially leads to RSI.
Instead of wasting your time and memory on tedious tasks, you could save it for more interesting things.
Installation
Linux:
Easy way to install if you are using Ubuntu: sudo apt-get install emacs. If you use other Linux distributions, use the package manager of your distribution and install Emacs. However, the package manager only has the latest stable Emacs; if you want the latest Emacs, build it from source according to the instructions below.
To use Emacs with GUI:
Install GTK 3: sudo apt-get install libgtk-3-dev libgtk-3-common libgtk-3-0
Download Emacs; or if you prefer the latest Emacs, get it from source: git clone http://repo.or.cz/r/emacs.git
If you download from the homepage, unpackage: tar xvf emacs-*.tar.gz
Install GTK: sudo apt-get install libgtk-3-dev libgtk-3-common libgtk-3-0. You have to use gtk3 to be able to use true type fonts.
cd emacs-<version>*
./autogen.sh

Add prefix and path to where you want to install. This is useful if you work on a remote server without root access: ./configure --with-x-toolkit=gtk3 [--prefix=/path/to/dir]

You should use GTKx 3, so you will be able to use true type fonts such as Inconsolata for a better Emacs experience.

make
sudo make install
If ./configure tells you there are dependencies missing, you should install them. Recommended dependencies: libtiff, libgiff, libjpeg, libpng and libxml2 for viewing and browsing web inside Emacs:
sudo apt-get install libtiff5-dev libpng12-dev libjpeg-dev libgif-dev libgnutls-dev libxml2-dev
Using in Terminal only:
Download and unpackage as above.
./configure --without-x [--prefix=/path/to/dir]
make
sudo make install
If you don't like to compile Emacs yourself, install from the package manager of your Linux distribution.
After installation is done, add this line to your .bashrc or .zshrc:
So you can start Emacs as fast as vim!
Swap Control and Capslock
Swapping Control and Capslock, in general, is not required to make the best out of Emacs, if you at least use a regular key PC keyboard or better. However, it is not nice at all on a laptop keyboard. If you use a laptop keyboard for writing code, I strongly recommended to swap Control and Capslock for a better Emacs experience.
Swapping Control and Caplock will not only benefit your Emacs usage, it is beneficial in general, as Control is a much more frequently used key than Capslock. Popular shells like Bash or Zsh use Control a lot for quick cursor movement.
Project: Browsing Linux kernel source code like a pro
Setup
You have learned quite a bit about Emacs. Now, you can immediately use Emacs to do practical thing like jumping around a big source tree like Linux kernel. However, this is just a demo. You can do much more if you learn Emacs properly.
First, you have to install GNU Global.
Linux:

Click here and download the latest stable GNU Global. Then change to the directory where you have just downloaded and follow these steps:

tar xvf global-<version>.tar.gz
cd global-<version>/
If you have ctags installed, add the option --with-exuberant-ctags and supply the installed path: ./configure [--with-exuberant-ctags=/usr/local/bin/ctags]
make
sudo make install

Windows:

Click here and click "DOS and Windows 32 version" to download the binary archive.

After your download the archive, create a directory C:\root and unzip the package into that folder:

Right click on Computer -> Properties -> Advanced System Settings -> Environment Variables.

If PATH variable does not exist, click New. Then in "Variable Name", enter PATH; in "Variable Value", enter C:\root\bin. From now on, if you use ggtags, Emacs knows where to find GNU Global programs. $PATH is the variable where Emacs search for executable programs. If you want more executable programs, add more path to $PATH variable. Each path is separated by ; like this:

Mac OSX

: Mac OSX version is distributed by MacPorts.
Then, start Emacs, and press C-x b and switch to *scratch* buffer. A buffer is an editing area; an editing area may or may not has a file behind it (i.e. A buffer for holding a shell). I will explain more about this later.
Paste the following code into the *scratch* buffer:
(

require

 '

package

)




(

add-to-list 'package-archives
       '

(

"melpa"

 . 

"http://melpa.milkbox.net/packages/"

)

 t

)



The above code you see is Emacs Lisp.
Then, M-x eval-buffer and press RET.
After runs eval-buffer, the whole *scratch* buffer is processed. Then, M-x list-package. Wait a few seconds and you will see of list of plugins for Emacs. In Emacs, a plugin is called a package. Press C-s, and type ggtags and press C-s again. Your cursor will move to the package ggtags. Be sure to select one from melpa; you should see a column written *melpa and select the row that has melpa in it. Press Enter to stay at that position. As you see, C-s is used for searching text inside a buffer.
On the ggtags entry, press i key, which stands for install. Then press x to execute the installation. Emacs will ask you to confirm the installation. Type yes and press Enter. Wait for Emacs to finish its installation.
After installation is done, close the status buffer by pressing C-x 1, switch back to *scratch* buffer by C-x b. Paste the following code using C-y:
(

add-hook 'c-mode-common-hook
    

(

lambda

 

()


      

(

when

 

(

derived-mode-p 'c-mode 'c++-mode 'java-mode 'asm-mode

)


  

(

ggtags-mode 

1

)

)

)

)



You may worry that you have to write Emacs Lisp every time you install something. Don't worry. Most package authors provide code snippets to setup their package properly. All you need to do is copy and paste. The above code is taken from ggtags homepage at configuration section. The configuration is meant to activate ggtags only in a few programming modes.
That's it. Now you can browse kernel easy and fast in Emacs (instant result display).
Browsing the kernel source tree
You can enjoy exploring the kernel source tree by following these steps:
Clone the kernel source: git clone https://git.kernel.org/pub/scm/linux/kernel/git/torvalds/linux.git ~/linux
Emacs has a file explorer, as you've seen above, called Dired, short for (Dir)ectory (Ed)it.
Before start browsing the kernel, you need to create a database for quick searching. Press M-x, type ggtags-create-tags. It asks for a directory; since you're in the root directory of Linux already, press Enter; ggtags asks whether you use ctags (which is another tag generating program, works with more languages but has less features). Type no, press Enter and wait for ggtags to generate the database.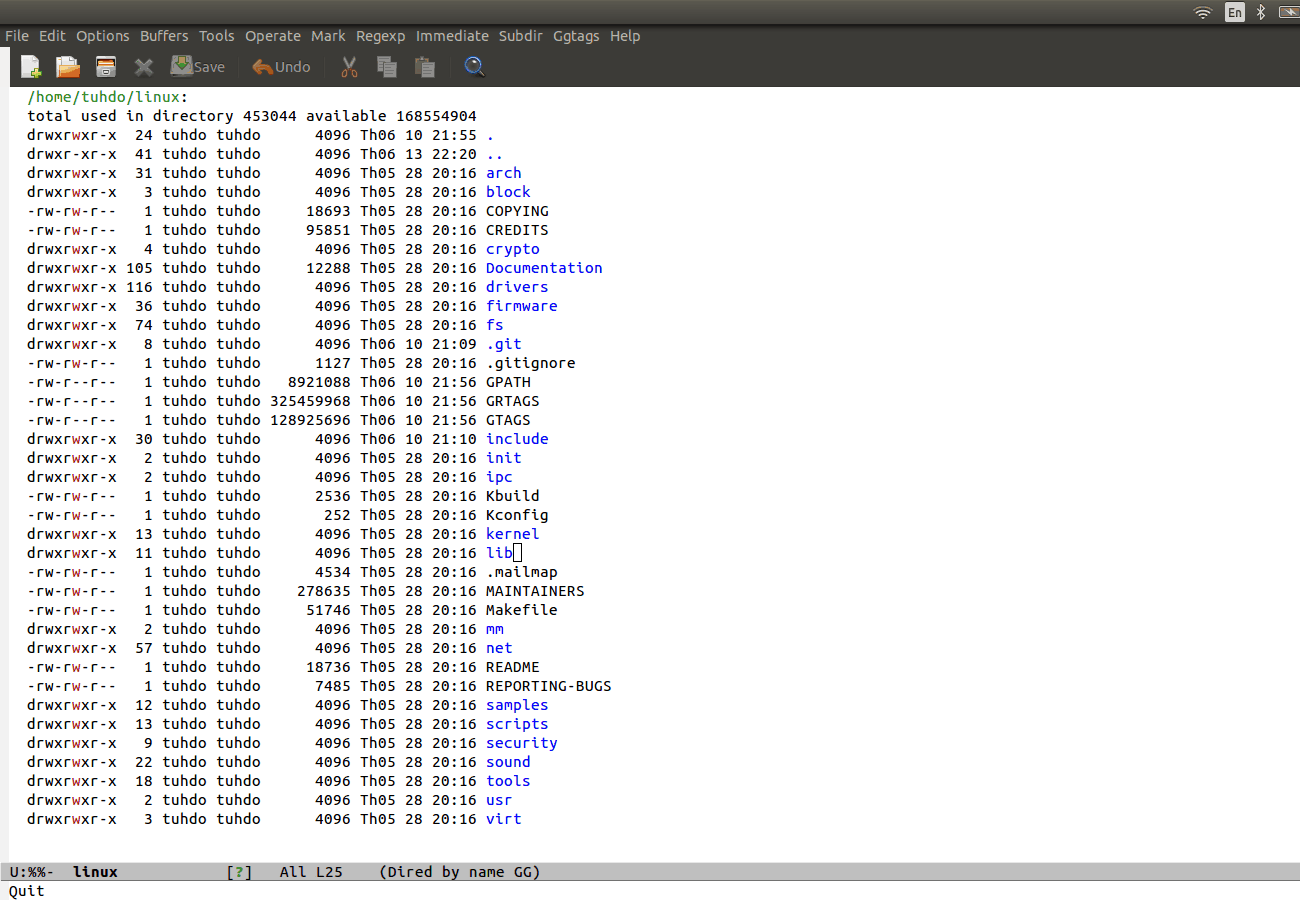 After the tag database is done generating, a message at the bottom of your Emacs prints a message GTAGS generated in ~/linux. Now you can start going anywhere in Linux source tree in an instant instead of spending hours to grep!
Let's find a file in Linux. Every C program, whether large or small must have a main() function, and a file containing the function. Let's find out where the main() of Linux kernel is.
M-x, type ggtags-find-file. C-c M-f also executes ggtags-find-file. A prompt ask for a file to find. You can also invoke ggtags-find-file with C-c M-f.
Enter main.c to the prompt and press Enter.

You will see a list of main.c files below in various directory:

You can visit each file by pressing M-n (n means next) to go down or M-p to up (p means previous).

Press M-s s. A prompt appears waiting for something to search; type init/main.c. As you type, the candidate buffer got highlighted gradually.

Finally you get into the correct file. This is where Linux starts after the bootloader stage.

Now, you see a lot of names in this file: variable names, function names… Now, you want to find where all of these names are defined and where they are used. Let's scroll down a bit, either with Page Down key or scrolling with the mouse or search for it. If you want to search, press C-s and type kernel_init and press C-s repeatedly. C-s is available everywhere in Emacs. M-s s is just available in ggtags. You see a function declaration like this:

static

 

int

 

kernel_init

(

void

 *

)

;


This is the whole process of finding the file:

You can find definitions or references of a tag easily. Now, let's go back to the declaration static int kernel_init(void *); again. Move your cursor on kernel_init.

Press M-. jumps to its definition. M-. again jumps to its references, where the function is called. M-. again jumps to the definition again. Basically, if the current view is definition, pressing M-. switches to references and vice verse. Usually, you will also see a list of candidates similar to the one you saw using ggtags-find-file above. Use M-n or M-p to select next/previous match.

If you want to go back to where you were, press M-* (or M-Shift-8) brings you back to the previous place where you jumped.

If you want to jump to a C header file, for example:

#include

 

<

linux/kernel.h

>




Move your cursor onto that line and press M-..

Again, you can search for candidates using M-s s.

After navigating for a while, you may have jumped to many places. To view the history of where you were, press C-c M-h:

If you want to have a list of all the tags you visited, press C-c M-/. The different between this command and the above command is that, C-c M-h stores the places in files you visited, while C-c M-/ stores the tag operations you performed. After press C-c M-/, if you select an entry in the result list, it displays the result list of the tag in the selected entry, along with your match candidate you selected in the past:

If you create, edit or delete a source file in your project, upon saving ggtags automatically updates the database of your project. How convenient!

That's it for basic navigation. Yes, it's just the basic. This is just the tip of the iceberg. In Emacs, you have a toolchain called CEDET, short for Collection of Emacs Development Environment Tools, which offers features such as highlighting, project, smart jump, context-sensitive completion, symbol references, code generation… And Emacs includes CEDET by default from Emacs 23.2. CEDET is also a language framework for language writers to create such tools within Emacs for their languages, but currently the best supported language in CEDET is C/C++.

ggtags solves your navigation need, but does not offer the above features. However, with ggtags alone, it's far enough for your C/C++ projects, thanks to GNU Global for working nicely on large source tree like the Linux kernel.. After all, many people write C/C++ source code on a bare minimum editor and waste a lot of time doing things manually instead of focusing on their problems.

After this demo, are you convinced now? If you want to harness the power of Emacs even further, you need to learn Emacs properly. Finally, close everything you don't need with C-x k
Extending Emacs Primer
To let Emacs automatically load your configuration, save it to either of these three files:
~/.emacs ~/.emacs.d/init.el ~/.emacs.d/init
Now you know how to open and save files, it's time to save your Emacs configuration you have been using in the *scratch* buffer. After you finish the Linux kernel browsing project, you have these configurations:
(

require

 '

package

)




(

add-to-list 'package-archives
       '

(

"melpa"

 . 

"http://melpa.milkbox.net/packages/"

)

 t

)





(

add-hook 'c-mode-common-hook
    

(

lambda

 

()


      

(

when

 

(

derived-mode-p 'c-mode 'c++-mode 'java-mode 'asm-mode

)


  

(

ggtags-mode 

1

)

)

)

)






(

add-hook 'dired-mode-hook 'ggtags-mode

)



If you like Ido, put the following configuration inside your init.el:
(

setq

 ido-enable-flex-matching t

)




(

setq

 ido-everywhere t

)




(

ido-mode 

1

)



You should use ~/.emacs.d/init.el because you can upload your ~/.emacs.d along with init.el on GitHub or Bitbucket, and it's more organized since Emacs saves many things under ~/.emacs.d/.
The steps:
Create a new file ~/.emacs.d/init.el with C-x C-f. After this, the buffer is created for this new file.
M-w (copy) the above code snippet from *scratch* buffer and C-y (paste) into the init.el buffer.
C-x C-s to save the buffer into file.
Restart Emacs and test if it is effective. Try list-package to see if melpa is available. Try M-. in any source file in your linux kernel directory to see if it works properly.
Conclusion
That's it. Now you can start using Emacs for many things, from editing source code to managing files and reading documentation. I hope you find my manual useful for helping you get the hang of Emacs in as little time as possible, and I am really help if you do.
Remember, this is just the tip of the iceberg. There are more things Emacs is capable of. If you like, follow my other Emacs manuals on specific topics.
Finally, thanks to Worg for this awesome CSS.
Appendix
Why Emacs? (Extended)
Emacs allows you to do much more than just editing. Emacs is not a mere editor like others, either in terminal or in GUI. Emacs is a development platform. Emacs is a virtual machine that interprets its own bytecode.
You can write all sorts of programs in Emacs to add more features using its own language - Emacs Lisp - in an easy way. With this extensibility, Emacs can be many things: an editor, a file manager, an email client, a news reader, a shell…
You can think of Emacs as an enhanced interpreter and evaluate any valid Emacs Lisp code anywhere in Emacs, as long as the code is visible on your screen. To illustrate my point, here is an example:
(

defun

 

hello

 

()


  

(

interactive

)


  

(

message 

"Hello World"

)

)



You can paste that code snippet anywhere - yes, anywhere - in Emacs and tell Emacs to execute that code. If the code snippet has valid syntax, Emacs executes successfully and you will have command to print "Hello World" at the bottom of screen.
A great advantage of this approach is, if you want to change the behaviour of Emacs, you write some Emacs Lisp code, execute it and immediately see the results, right inside Emacs. Emacs is beyond an editor. Emacs is a programming platform that has an editor. Don't confuse Emacs with other real editors, which can only be used for editing.
In practice, Emacs also offers many editing interfaces: built-in Emacs, Ergoemacs and Evil - or Vim inside Emacs - key bindings. Emacs has internal tools and interfaces to external tools for many programming languages. Learning Emacs means you can use the same editor for different languages. Otherwise, you will have to learn a different editor when you learn a random language.
Other people's "Why Emacs?"
More on Emacs history
Ever heard of a computing system called Lisp Machine? I bet many of you don't. Me, too, until I started using Emacs and gradually learned enough to know such a thing ever existed. This old article is an interesting read: The Ghost in the Lisp Machine
A friend of mine used to say that Emacs fills our yearning for a Lisp Machine. I tend to agree with him: Emacs is not just an editor, but a full integrated environment where you can perform virtually any imaginable task; and, most importantly, the inner workings of the system are open to you to explore and extend. Using, for extra fun, Lisp. No, i don't think that Elisp is the nicest Lisp incarnation around, but is far better than, say, C, and i still prefer it to other scripting languages. Moreover, the awesome range of libraries at your disposal makes up for many of the deficiencies in the language.

Living in Emacs is addictive. Imagine an operating system where you can switch from writing code to browsing the web or chatting without leaving a consistent environment, with the same set of commands and shortcuts. Imagine a set of integrated applications where data is seamlessly shared, where any single functionality can be tweaked, extended and adapted to your particular needs. Where everything is easily scriptable. Imagine, in addition, that the environment provides powerful and complete interactive self-documentation facilities with which the user can find out what is available. I have yet to find an operating system providing such an integrated environment. Not even Mac OS X, where AppleScript support is often lacking and system services are underused.

Of course, the key ingredient here is Emacs' extensibility. Far from being an afterthought or simply one of its features, extensibility is the central aspect of Emacs' architecture. Actually, the whole point of this post is to recommend you reading Richard Stallman's 1981 essay EMACS: The Extensible, Customizable Display Editor, which explains much better than I could the strong points of Emacs design, i.e., those traits that make Emacs more, much more, than just an editor. From the horse's mouth:

Extensibility means that the user can add new editing commands or change old ones to fit his editing needs, while he is editing. EMACS is written in a modular fashion, composed of many separate and independent functions. The user extends EMACS by adding or replacing functions, writing their definitions in the same language that was used to write the original EMACS system. We will explain below why this is the only method of extension which is practical in use: others are theoretically equally good but discourage use, or discourage nontrivial use.

[…]

User customization helps in another, subtler way, by making the whole user community into a breeding and testing ground for new ideas. Users think of small changes, try them, and give them to other users–if an idea becomes popular, it can be incorporated into the core system. When we poll users on suggested changes, they can respond on the basis of actual experience rather than thought experiments.

The article goes on explaining the organization of the Emacs system, how it depends on its interpreter, Elisp's main features and how built-in self-documentation is provided. Also interesting is the list of related systems at the end of the essay: Lisp machines, LOGO, MacLisp and Smalltalk. We're definitely in good company!
Emacs is a miniature of a Lisp Machine. You can take a tour at the Lisp Machine online museum.